THE FASTEST GROWING, MOST EFFECTIVE SALES & Marketing TOOL IN THE CARE SECTor
Are you looking to transform your care home business and take it to the next level?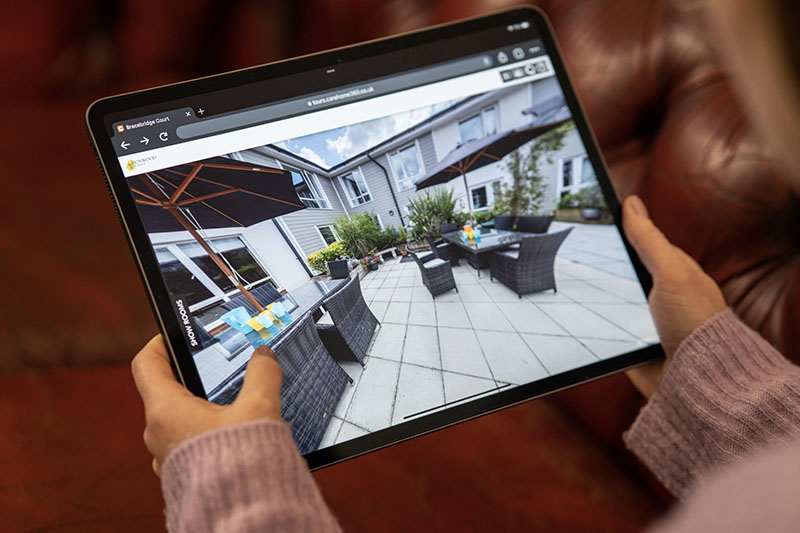 Benefits & Advantages
Our 360 Virtual Tours
Virtual Tours can help reduce vacant room figures and low occupancy.
They're also a powerful tool to help recruit new members of care staff.
They can also help you build trust with your resident's families.
Find out why we're one of the UK's leading 360 Virtual Tour providers
View one of our virtual tours here.
Double click on the tour to enter full screen, and press esc to close.
Click and drag to look around, or select different rooms from the room list.
Read our FAQs and find out how 360 Virtual Tours work
We've been working within the care home and senior living sector since 2011, and have helped many clients transform their digital marketing and grow their businesses.
We've put together a number of FAQs based on the questions we've been asked during that time.
Read all of our FAQs for Virtual Tours.
A 360 Virtual Tour is a collection of high-resolution panoramic images stitched together and then edited using sophisticated software into an autonomous, user-friendly experience of the interior of a building.
At Care Home 360 we always say to clients that virtual tours are just like uploading the best features of your care home onto a web page, so you can show it off to potential care seekers and let them explore for themselves.
We can normally complete the shoot for a 360 Virtual Tour within two hours of being at your care home. 
Being respectful of the fact that we will be working inside a home for people with many different needs, sometimes shoots can take longer.
If the project involves photography and/or video then this will add a bit more time, too.
On the day of the shoot we will do everything we can to reduce our impact on the daily functioning of your care home and your residents.
It's very easy to add the finished 360 Virtual Tour to your website.
We host the majority of virtual tours on our powerful, secure servers.
Once everything is signed-off and you're happy, we'll send you a couple of lines of code for you to embed on a page on your website.
We always recommend that our clients create a dedicated, search-friendly URL for their virtual tours, something like:
https://www.care-home-name.co.uk/360-virtual-tour
What Clients Say About Our Services
I've been working with Beckie and Edd now for about 6 months on various projects. They are probably the most accommodating agency I've worked with, not to mention the fabulous videos and photography they've produced. A dream of an agency to work with and their output is exceptional.
The team were so helpful and and great to work with. They listened to what we wanted and created the perfect 360 tour for our venue with a very quick turnaround. We will 100% be using them again very soon for our next virtual tours.
We had some 360 degree virtual tours of some of our new build show homes. The quality of the photos was very good and helped show off the high build standard of our homes. They have been great for allowing people to view our homes when they are unable to come directly. The whole experience has been so good that I have booked them in for more 360s and videos already!
Working with the uk's care home groups
UK's first scalable virtual tour solution for care home Groups
We understand the importance of providing a consistent brand experience across all digital touchpoints and to keep costs as low as possible in order to maximise ROI.
That's why we've designed a number of specific virtual tour packages for larger care home Groups who have multiple sites across the UK.

Multiple locations
Delivery of multiple virtual tours for all homes across your Group.
Updates
All updates and amendments needed to keep your virtual tours on-brand and relevant.
Add new tours
Add new virtual tours, as your business grows.
Talk to us today and we'll design a bespoke package to suit your specific needs.
Are you ready to have a chat about our 360 Virtual Tours?